Standard buoys, manufactured with medium-density polyethylene, ensuring good resistance to stress cracking, toughness, and good resistance to impact at low-temperature.
The finest (non-recycled) materials are used, coloured with pigments stabilised with anti-UV agents. Our beacon buoys, with diameters of 400, 600 and 800, are fitted with brass-reinforced rings to prevent any electrolysis problems. The beacon buoys can be used within the framework of lighthouse and beacon legislation, to mark out shipping channels and regulated areas.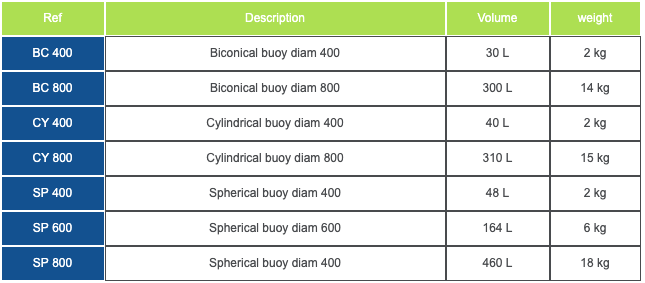 The buoys are resistant to salt water, to aggression of marine and animal species, to shocks caused by waves, hydrocarbons and static ice formation.
The standard colors are yellow, green, red. Contact us for other colors.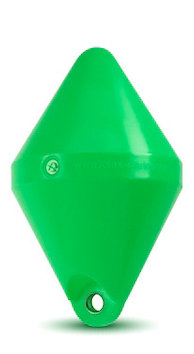 BICONICAL BUOY
For delimitation of channels (starboard)
---
A) Diam 400 mm x H 640 mm – Weight 2 kg – Diam ring 58 mm
b) Diam 800 mm x H 1610 mm – weight 14 kg – Diam ring 58 mm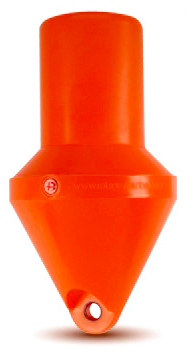 CYLINDRICAL BUOY
For delimitation of the channels (port)
---
A) Diam 400 mm x H 740 mm – Weight 2 kg – Diam ring 58 mm
b) Diam 800 mm x H 1610 mm – weight 15 kg – Diam ring 58 mm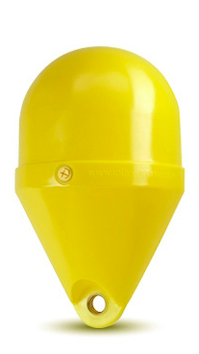 SPHERICAL BUOY
For delimitation of restricted access areas
---
A) Diam 400 mm x H 660 mm-weight 2 kg-Diam ring 58 mm
b) Diam 600 mm x H 990 mm-weight 6 kg-Diam ring 58 mm c) Diam 800 mm x H 1610 mm-weight 18 kg-Diam ring 58 mm